As a retouching professional in the beauty industry, you have to hone certain skills to be able to make necessary color adjustments to achieve target (reference) colors provided by the client.
These skills include:
the ability to discern subtle differences between colors and adjacent shades,
understanding different types of cosmetic product finishes and textures,
and recognizing the most appropriate and efficient tools to achieve the given target colors.
While there are countless tutorials on all sorts of color adjustment topics on the internet, you can only develop your color-matching skills through constant hands-on practice, there is just no other way around it.
For me and my retouching team, challenging color adjustment jobs have become a routine, and the more color-matching projects we complete for our commercial clients, the more exciting and rewarding new color-matching tasks become.
It's like a game where you are tested every time because every project and every shoot is unique and almost always presents a new set of challenges to overcome.
And, as a bonus, these types of projects are a big part of the retouchers' bread-and-butter eComm beauty retouching jobs!
Typically, those challenges include either difficult color transformations and/or blending masking edges, and sometimes changing the finish (glossy, matte, satin, sheer, creamy, frosted, metallic, shimmer, stains, tints, and so on) and/or texture of the product you are color-matching as well.
For example, most beauty brands release their new lipstick and gloss collections with many shades included, but it takes a lot of time to apply, take off and carefully re-apply each and every shade to shoot during a 1-day photoshoot.
Besides, many darker lipstick shades stain the models' lips and skin around them, so it is almost useless to try and shoot more than 2-3 of such shades on each model as more retouching will be required to fix those issues in post, inevitably degrading the final results.
There are typically other products besides lipsticks and glosses in every collection, so time restrictions on the day of the shoot usually lead to having to minimize the number of shades shot in camera, and the colorways having to be created in post-production to mimic every single shade of the collection.
So, it is quite common for commercial clients to delegate the job of creating up to 20 additional shades (colorways) based on the 5-7 captured ones to their retouchers.
Your color-matching skills will be the deciding factor if you want to successfully complete such a project for a client and have them hire you again.
New Practice Beauty Images
Take advantage of our current sale of the new practice beauty images by the talented London-based Beauty photographer and retoucher Iulia David.
Play around, and challenge yourself to create as many colorways (other lipstick shades) as you can based on the captured one.
⏰ USE PROMO CODE COLORPRACTICE FOR 10% OFF YOUR PURCHASE ⏰
We have created Practice Packages (2 images per set), Pro Packages (3 images per set) for you to choose from, and you can also grab any single image you like à la carte.
This offer will expire at the end of the day on March 19th, 2023 (PDT)
Our Retouching Video Courses
If you don't know any color-matching techniques in Photoshop, our Professional Beauty Retouching video course will teach you a few.
Use promo code RAPRACTICEID1 for 20% OFF our most popular courses Skin Retouching, Retouching JumpStart (for beginners) and, of course, our best-seller Professional Beauty Retouching during this sale!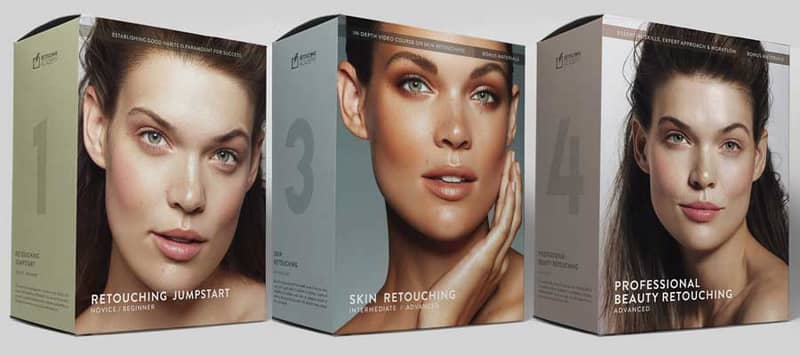 This offer will expire at the end of the day on March 19th, 2023 (PDT)
ARE YOU A PRO PHOTOGRAPHER?
Reach out to our team if you have high-quality beauty or fashion images to offer to our students and subscribers!
RA INNER CIRCLE EMAIL Join our Inner Circle Email to receive exclusive discounts, early access to new courses and more!